Rams Ready for Basketball to Begin
Adena Goldberg
December 1, 2014
It is that time of the year again. It's getting cold, but the gym is getting hot. It's time for the Hyman Brand Hebrew Academy Rams Basketball season to begin. Both the Men's and Women's Varsity squads have new teams and have a brand new season to conquer.
The Lady Rams lost only two players from last year, but they gained seven underclassmen and a new coach. The team began practicing on Oct. 26 and has been working hard to prepare for their upcoming season. The team is coached by Perijo Maddox and Jennifer Fletcher. This year they are also joined by alumnus Shira Levine. Shira was a point guard for the Lady Rams from her freshman year on and graduated in 2011. She has been teaching many of her own ball handling skills to the ladies. Junior Lainie Kaseff, one of the Lady Rams many guards, shared her excitement about working with Shira this season. "I remember when I was younger watching Shira play, and I can't wait to learn from her!"
Captain Moriah Abrams is excited about the team and the strong future ahead of them. Abrams added that there are "a lot of freshman this year, which is great, because we have so many people on the team." Abrams also loved how hard the girls are working and that "in practice we [the Lady Rams] keep getting better and better!" As a senior, Abrams is ready for her strong last season to begin. She added that she "is very excited to see how we [the Lady Rams] will do this season!"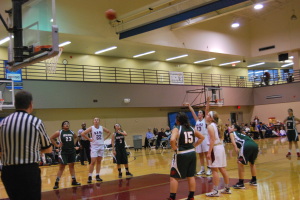 As eager as the girls are to start, the boys can not wait to see what this year will bring for them. Eric Stamps has returned as the sole coach for the team. Stamps meets the boys three times a week for morning practice as well as sunday night (alongside the girls) and some scrimmage games at the Jewish Community Center. While Stamps is back to his old routine, the players may not look familiar. The team lost five teammates who graduated with the class of 2014. Although it was a big loss, many strong players from the past and those who have grown are ready to lead the Rams to a successful season.
For Senior Joel Gutovitz this is his sixth year on the team, as he started playing in seventh grade. Gutovitz, through injuries, several different coaches and teammates, and many tournaments is finally a senior and the captain of the team. Gutovitz was willing to share how much the Rams athletic program has meant to him. "From being the mascot and the team's biggest fan, to every nail-biter victory, this Nov. marks the start of my last season with my HBHA brothers." Gutovitz began to get a bit nostalgic over his last 13 years as a Ram but soon bounced back, expressing his eagerness for this season to begin. "I can't wait for one last insane season of those nail-biters, tears, hugs and wins! One final glory of being a Ram, and this is the amazing team to do it with!"
Gutovitz made one addition. He expressed how great the season will be by calling out all the fans! "HBHA Rams Fans, you won't want to miss a beat [of this years season]. See you all at the Pasture (student body's nickname for the gym)"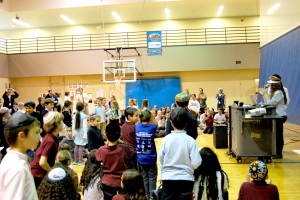 HBHA Upper School Student Council organized a school-wide pep rally getting students hyped for the season, held on Nov. 13 in the gym. Families played trivia games, students taught cheers, and prizes and schedules were passed out to students. Junior and Varsity Mens starter Sam Matsil said, "it was so fun to be with the school and get pumped for the season! The younger kids got so into the cheers, it was so cute!" Matsil added that he "hope this encouraged students to come out to games!" Indeed it will, as fourth grade student Ari Shafton said, he is "really excited to come to games! "The pep rally was awesome!" Shafton continued, "I loved the 'baa-baa' (noise a ram makes) cheer! It was so funny!" Shafton wasn't alone. Many students and teachers are excited for the season and to come to games!