Photo by Debi Davis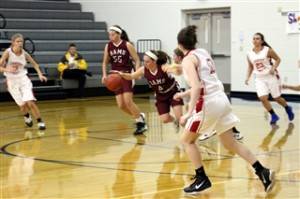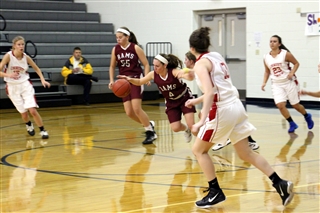 Senior Kara Kahn runs a fast break
The Hyman Brand Hebrew Academy girls varsity basketball season is in full swing, while the season is long, the girls have come far and are still working hard. The HBHA girls varsity team has played well throughout the season, and they even had the opportunity to travel to New York City joining other Jewish teams in a basketball tournament called The David Cooper Memorial Basketball Tournament.
The Lady Rams have worked hard this year under the coaching of Perijo Maddox and Jennifer Fletcher. The two have coached the team through seventeen games so far, and a tournament. Some of their games have not gone the way that the Rams have hoped, but many of their games have been close losses and some wins, their third game of the season against Alta Vista High School they won with a score of 47-7.
The basketball season is not over but much like the HBHA boys' soccer season it has been inhibited by the injury of one of the team members. Freshman Leah Sosland was injured with a bad ankle sprain two weeks ago and is still recovering from her injury. Also injured was Junior Anna Kaseff. Kaseff was on the bench after undergoing foot surgery and then getting her wisdom teeth taken out.  While on the mend, Sosland is able to play in games but is playing lightly so as not to hurt herself again. "It was hard when I sprained my ankle because I love to play and it cut my playing time, but it gave other girls more time to play and improve, so I was fine with it." Though Sosland was injured, she stayed optimistic and had a good outlook on the rest of the season. "This season has been amazing so far! Even though we haven't won most of our games, I've seen a lot of improvement in all of us and can't wait to see where we go over this last month, and can't wait for next year." added Sosland.
Sophomore Adena Goldberg who according to "maxpreps.com" is the teams leading scorer is another girl who stayed optimistic for the rest of the season. Goldberg leads the team averaging 9.6 points per game had the same outlook as Sosland about the rest of the season, knowing that the team's capability is even more than they show now. "Although the season has been a bit rough, with all the skill and ability we have on our team, I know that we have the capability to succeed. Nonetheless, it's really fun to play and be on this team."
The girls have not played as well as they had hoped, but in the words of senior Kara Kahn, "This season has had it's ups and downs, and although we didn't have the record that we had wanted I think everyone learned a lot and really improved their skills. This team is very talented and I have enjoyed the season overall".
While the girls have faced challenges and some losses, they had a three game winning streak towards the end of January and early February. The first game of the streak was 35-13 against Independence Home School, with that win they followed it up with another. The team's second win against Alta Vista High School was on par with their first game against them, with a 25-7 victory. The last game of their streak was a closer and more exciting with a 55-43 win against Kansas School of the Deaf.