HBHA Soccer, Tennis, and Cross Country Update
Moriah Abrams
October 22, 2014
Fall is a busy season for students at the Hyman Brand Hebrew Academy; it is filled with college applications, holidays, and sports. HBHA participates competitively in three fall sports: boys' soccer, girls' tennis, and cross country.
This year's boys varsity soccer team is coached by Science Department Chair and Head Coach Cody Welton. This is Welton's second year coaching the boys' team, and he is assisted by HBHA music teacher Nick Brown. The boys' team currently holds a record of one win and seven losses with only twelve players on the roster. This is partially due to the loss of several starters from the class of 2014. On the season thus far Welton remarked, "We are more competitive than I expected. I think if we had more than twelve players we would be more competitive and win a lot of games."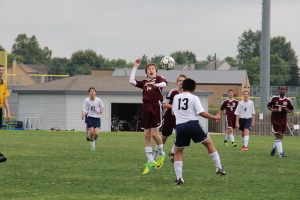 The Rams soccer team plays their home games at the Johnson County Community College campus. Senior Captains, Joel Gutovitz and David Liebschutz, lead this year's team. When asked about the season, Liebschutz said, "It's great to see progress in the younger players and how far they've come this season. And I'm looking forward to senior night!"
Beginning in the fall of 2010, tennis was added to the HBHA Athletics department.  The girls play in the fall and the boys play in the spring. The girls' team is coached by Todd Perkins and throughout the season they play several matches against the Barstow Knights. The girls practice twice a week on the Jewish Community Center courts. Sophomore Leah Sosland is enjoying this year's tennis season. "I've been doing HBHA tennis since 6th grade, and I wasn't really serious about it, but now I've improved a lot. I'm really grateful for my coach and teammates," said Sosland.
Cross Country is a popular sport at HBHA this year. Open to students in grades 5th-12th, the runners vigorously practice four times a week. The team is coached by Upper School Principal Todd Clauer and assisted by HBHA parent Marla Brockman. Middle school has participated in two meets so far this season. The high school ran in the Shawnee Mission Park, Swope Park, and Barstow meets and proved to be fierce competitors. This season has proved to be eventful for the HBHA cross country team.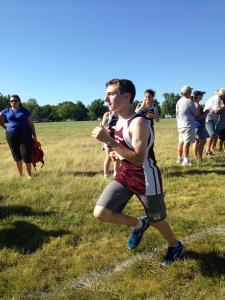 Freshman Haidee Clauer remarked, "This is my 4th year doing cross country. It's really fun to be with friends and work hard. The best part is the sense of accomplishment when you finish a race." The cross country team has one more high school meet and one more middle school meet held at HBHA.
As the fall sports season comes to a close the whole community is invited to the cheer on the cross country team at their meet on 23 Oct. at Heritage Park.