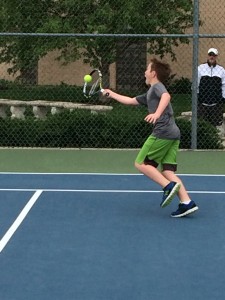 The Spring season at the Hyman Brand Hebrew Academy not only includes Passover Break but also the start of boys' tennis season. The HBHA boys' tennis program is open to Middle and Upper School students. Students practice twice a week on Mondays and Thursdays at the Jewish Community Center tennis courts. The team is composed of a range of experienced and inexperienced players who are taught by Coach Todd Perkins.
Senior Matthew Kavanaugh was a founding member of the tennis program at HBHA and is pleased with the season thus far. Kavanaugh has played tennis for many years including four years at HBHA. "I'm really enjoying this tennis season. Coach Perkins has been able to improve the game of every player, from those who just learned to hold a racquet, to those who have played for years. In terms of recreation and self-improvement, this season has been great," said Kavanaugh.
The team's first match took place on Apr. 28 against The Barstow School. No official match score was kept, but the Rams competed well against the Barstow Knights.