HBHA Basketball Program Celebrates Senior Night
Hannah Pinson
March 13, 2014
On Feb. 11, the HBHA basketball players and team managers celebrated Senior Night. This marked the last home game of the 2013-2014 basketball season and the last home game of the seniors' high school career. The home teams competed in two vigorous games against Whitefield Academy, from Kansas City, Mo. This resulted in two wins, one for each HBHA varsity team.
Each of the games were fast-paced and extremely close. The Lady Rams competed fiercely, tying up the game at one point with the Whitefield girls. They were able to pull ahead and score 49 points against the other team's 41. The boys played equally as hard. At one point in the game, they were down by 20 points. But, in the second half, they were able to pull ahead and score 61 points. This beat Whitefield's score of 57 points.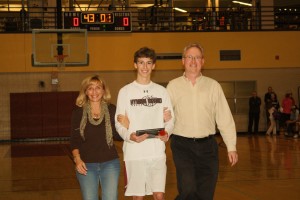 Immediately following the girls' varsity game, the annual senior night program began. This is a time-honored tradition in which each twelfth grade student is escorted by family members or friends on a brief walk around the gym. During the course of their walk, Upper School Principal Todd Clauer told the crowd about the students' favorite sports moments and memories, their past basketball experience, and their academic plans for the following school year.
A few days before these senior night games, the students created their own posters with pictures of themselves as children or playing basketball in past seasons. They then posted these in the upper and middle school hallway, allowing their fellow teammates and students to write their congratulations and praises. This also gives teachers, family members, parents, coaches, and fans to write their own personal message to the outgoing seniors about their basketball and personal experiences. The posters were also hung at the games. Similarly, the Lady Rams' coach, Perijo Maddox, created a collage of the team's seniors, which were compiled of photos the team had gathered throughout this season.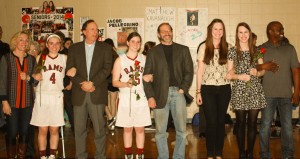 This has been an experience for the seniors graduating from Hyman Brand Hebrew Academy for multiple years. This is also something that some students are able to look forward to during their entire high school sports career. Kara Kahn, a Lady Rams team captain, commented, "Senior night was a really great experience. Having played varsity basketball since freshman year, it was unreal that it was finally my turn to be honored. It made it even better that we won, and it was such and exciting game!" Kahn has not yet decided where she will be attending college.
Alex Sher, also a Lady Rams team captain, felt that this experience was almost unrealistic. She stated, "Walking off our home court for the last time felt so surreal. I'm going to miss playing there so much!" She will be headed off to Northwestern University in Chicago, Illinois, next year.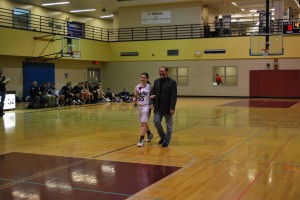 Senior night is a tradition at Hyman Brand Hebrew Academy to help send off the seniors on a good note and wish them luck on their journey throughout college and the rest of their lives.