A Time to Learn and Have Fun: Middle School Basketball
Kara Kahn
February 27, 2014
Photo by Ms. R. Gina Renee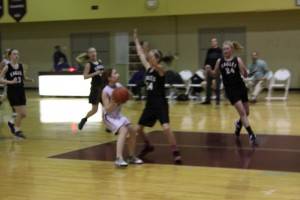 Seventh-grader Simi Schreiber goes up for a shot.
The start of the second semester means that middle school basketball season is in full swing. With a season that started in November and ends in January, the middle school boys and girls teams had a majority of their games in January.
The middle school boys will play a total of eleven games.Their team consists of sixth, seventh, and eighth grade boys. The middle school boys are coached by Jeff Lipsky and English and Math teacher, Micah Margolies.
Margolies played basketball at the Hyman Brand Hebrew Academy when he was a student. "I always thought that once I became a teacher, coaching would be something in the back of my mind," explained Margolies, "[Coaching] combines two of my favorite things, which is sports and teaching."
The two coaches are focusing on improving the fundamentals of the players. "We have an interesting mix of players since it is sixth, seventh, and eighth grade playing together," said Margolies. "There's a good level of skill and strengths that each player has." Having three different grades on the team also means that some players have been playing for three years now, while for others this year is the first time they have been on an organized basketball team. Margolies believes that the most important thing for every member of the team is to stress the importance of team basketball and court awareness. Although the middle school boys have not yet won a game, Margolies is not discouraged at all. "I think by the end of the year we will be a very strong team!" said Margolies.
The middle school girls have two HBHA basketball teams. The seventh and eighth grade team, coached by HBHA alum Abigail Sechrist will play a total of nine games this season. The girls already have six games under their belt. This year's team is a large group (eleven girls), including every girl in the eighth grade class except for one. "I like how so many girls in my class are playing [basketball] it makes it so fun," said eighth grade student and basketball player Gabrielle Abrams.
Coach Sechrist graduated from HBHA in 2008, and still holds the record for the most points scored in an HBHA girl's varsity career. "My goals for the team this season is to never give up and always show hustle," explained Sechrist, "I want the girls to have a lot of fun and enjoy the game."
Sechrist thinks that the girls have improved a lot since the beginning of the season. The team can adapt to different offenses and their defense has also improved. "The girls are reading passes and putting pressure on the guards to steal the ball," Sechrist said, "With their speed and quickness they are creating jump balls and steals."
The second middle school girls team consists of fifth and sixth grade students. This team has twelve girls and is co-coached by Brian Bell and Scott Sher. The girls played nine games this season. "We lost every single game, but it's really fun," said Smith, "I don't think any of us have been bad sports about any of the games, and it's just really fun hanging out with friends playing basketball."
These three teams work very hard throughout the season to build basketball and life skills off the court. Come out and support your middle school Rams!