Lady Rams Soccer Preview
Zach Kreisler
April 1, 2014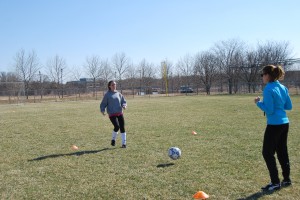 On Monday March 3, the Hyman Brand Hebrew Academy (HBHA) Varsity girls began soccer practice. So far the focus of this season has been conditioning as temperatures have been too low to practice outside.
Sophomore Lainie Kaseff showed her enthusiasm for the new season. "I'm really excited that the season has finally begun. Ms. Glueck is working us pretty hard so hopefully we will be in shape for our first game and I really hope we [will] do well this year!"
The girls' first game of the season is April 3 at five pm at home against Blue Ridge. On April 1 they have a scrimmage against HBHA Athletic Director Austin Benton's Club seventh graders at JCCC. Head Coach Rebecca Glueck is looking forward to seeing the team grow closer. "[I look forward to] seeing the girls work together as a team and build close relationships and becoming leaders on and off the field and having a great time doing it." The rams play home games at JCCC practice field. Go Lady Rams!