Yom HaShoah Brings New Feelings to Students

Contributing Reporting and Writing by Leah Sosland and David Robinow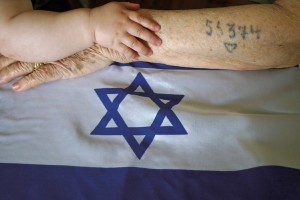 Every year, on Yom HaShoah, we remember the six million Jews that were murdered during the Holocaust. This year, however, many of the juniors and seniors at Hyman Brand Hebrew Academy were put in a unique position. They participated in remembrance ceremonies with a recent trip in their minds. These students had just gone on the Jewish Heritage trip, a week-long journey to Poland and Prague. This trip had a dramatic impact on the students involved.
"After going on the Jewish Heritage trip, I have a newfound appreciation of Yom HaShoah," said senior Kara Kahn. "Before, I would listen to the testimonies and still feel the emotion of the stories, but now I feel a much stronger connection."
Students not only learned about the history of the Holocaust, but also necessary facets that are critical to begin to understand the tragedy. And soon after their return, those students, along with the rest of the upperclassmen, put their knowledge to use.
On Apr. 29, the HBHA junior and senior classes planned a program during the school day for the rest of the middle and high school. The students shared many of their experiences on the trip, and then broke off into small groups to allow each person to share personal experiences and discuss. This program coincided with Yom HaShoah, the Jewish Holocaust Remembrance Day. The students, in light of their trip, decided it would be rather appropriate to not only participate in, but also lead the program.
"[This program] was extremely important," said junior David Liebschutz, a participant on the Jewish Heritage trip and whose grandparents were survivors of the Holocaust. "After learning, seeing and experiencing all that I had on the trip about the Holocaust, I wanted to share. I felt a need to educate others to remember those who perished and survived."
Not only did this have an impact on the students participating in the program, but also on those leading it."Being able to do so at school gave me an immense sense of fulfillment," said Liebschutz.
The upperclassmen were not the only ones to participate in a program for Yom HaShoah. Grades four thru eight took a trip to Topeka and sang at the Kansas Holocaust Memorial Program. Fourth grade teacher Ms. Safir shares that, "the most meaningful part was watching them sing, and looking at the reactions from those in attendance."
There are many reasons that we educate our younger generation on the Holocaust. It is important that we be well-educated because there will come a time when we will be some of the last people to have actually met a survivor of the camps. Not all younger people have had that opportunity, so it is equally important that those who have had that experience share, and this trip allowed many of the juniors and seniors to do that.
"Going on the trip gave me the knowledge and personal experiences to educate the younger kids in the program," said senior Jacob Margolies, who also participated in the Jewish Heritage trip. "You can never grasp the Holocaust without having been in a concentration camp, and even though I could not fully convey what I experienced there, I was able to explain much more because I was there."
Often a helpful tool in conveying information to middle and high school students is to put the information on a relatable scale.
"I think the younger kids look up to you and to hear your personal experiences is a powerful thing for them," said Director of Jewish Life at HBHA Zohar Flacks.
By giving the juniors and seniors the reins on this program, they made the sometimes challenging stories easier to digest. "It was really meaningful to hear their side of the story because I think it's important for kids to hear what the Holocaust was like from [other kids'] perspective," said sophomore Gabi Cabell.
One of the major themes for Yom HaShoah is "Never Forget". This is completely true, but I believe there is more to it than just that. Not only can we never forget, but we also have to keep fighting forward. This is made clear by continued anti-Semitic acts occurring throughout the world. What these juniors and seniors did was not only forging forward the idea of never forgetting and fighting forward, but making this community stronger and more educated.