Not 'Bowling Alone' in Kansas City: What's new with HBHA's Interfaith group?
Slider image courtesy of Zohar Flacks.
A group of Jewish, Muslim, and Christian teenagers, all from different backgrounds, got  together and went bowling. They did not let their differences get in the way, and they all became great friends from the moment they met. This is what it is like to be in the Interfaith group at Hyman Brand Hebrew Academy (HBHA). There are two groups, one in which started last year, and one that started this year. The first group includes sophomores and juniors that joined last year. The second group that started this year is made up of freshman and sophmores.  The other schools that participate in this group are Notre Dame de Sion (Sion), an all girls Catholic high school, Rockhurst, an all boys Christian high school, and the Islamic School of Greater Kansas City.
One opportunity that high school students have at HBHA is to join the Interfaith group. This group joins teens from different religious private schools together and is a place to "do activities and talk about interfaith dialogue" with other teens, says Dani Rotert, a Sion student. This is the second year of this group's existence, and about once every couple months, the students get together with the other schools.
Anna Clauer, an HBHA student who recently joined the second group this year, said she decided to join because she is "very interested in the beliefs and practices and traditions of other religions." At the beginning of each year, a new group of freshman and sophomores are chosen from each school.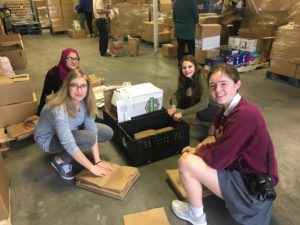 The first group got the chance to decide what they wanted to do together this year. They decided to visit each others' schools and see what a day is like in each different school. When the group came to HBHA, they experienced Taste of Shabbat (a weekly, Friday morning Shabbat celebration), musical prayers, and toured the school.
When the group visited Sion, they experienced a Catholic Mass service and sat in on some of their classes. At the Islamic School, the group attended an Islamic service at the Mosque next door to their school and viewed student-made projects.
"These visits helped me better understand the cultures of the Catholic and Muslim students." says Sagi Rudnick, an HBHA junior. Last year, this group did many different activities. "The most meaningful activity was definitely volunteering at the Jewish Vocational Center. We were able to help at the garage sale for the refugee families in Kansas City," says Rotert.
Being a part of this group is an opportunity to meet teens that may be completely different than an average Jewish HBHA student, but the students still find their similarities, get along, and even become friends. It is also a way to learn about other religions in a way that would not happen in a classroom. It gives students a place to not only teach others about their religion but also to learn more about the people surrounding them on a day-to-day basis.
When members of either group were asked if they would encourage other students to take this same opportunity, their answers were all positive. "I would absolutely, because it is such a good thing to know about how other religions work, and how other people your age, that are different from you, kind of do things." responds Rudnick, an HBHA student involved in the group. Students say the group is a meaningful experience and that it is also genuinely a good time all around.  
The plan is to create a new group each year and bring together students from each school. The interfaith group is a chance to make new friends who do not necessarily have the same beliefs.