Civil Rights Trip 2018: HBHA and University Academy Connect Past to the Present
Slider photo courtesy of Domini Johnson.
At 6 a.m. on March 15, a bus headed south-bound from Kansas City. In that bus were 18 HBHA underclassmen, ready to experience the culmination of their learning about the fight for civil rights in the American South. The HBHA underclassmen, along with 18 upperclassmen counterparts from charter school University Academy (UA), had the opportunity to visit and reflect about sites that were integral to the Civil Rights Movement. The students travelled to Little Rock, Ark., Memphis, Tenn., Sumner, Miss., Birmingham, Selma, Montgomery, Tuskegee, and Notasulga, Ala., and Atlanta, Ga.
The overall purpose of this trip was to give local high school students the opportunity to authentically experience the history that they have been learning about in class. This trip is particularly important "because it allow[ed] us to learn about the history of other people," said HBHA freshman Ilana Fingersh.
At HBHA, there is a major focus on learning about important events concerning Jewish history, such as the Holocaust. It is essential to realize, however, that even though "the Civil Rights Movement is not our personal history, I don't think that makes it any less important to learn about." said Fingersh.
However, the Civil Rights Movement is the personal history of the UA students, and "being able to experience this trip with UA, who are different from us racially and culturally, was incredible," said Fingersh.
In addition to connecting with the history of the Civil Rights Movement, another important purpose of the trip was to remind students "that the fight for civil rights is an ongoing battle," explained HBHA sophomore Addie Brand. The goal is that "by being at the places where important things took place 50 years ago, students will hopefully be inspired to fight for social justice today."
The whole trip was fun and educational, and there were definitely some highlights. "My personal favorite place we went to was the Center for Civil and Human Rights in Atlanta," remarked Fingersh, "because it combined the Civil Rights Movement we have been learning about and blended it with modern human rights."
The museum was engaging, interactive, and gave the students the opportunity to make connections between the struggles of the Civil Rights Movement and the struggles of today. "This was by far the best museum I've been to," said Fingersh, as it was "extremely powerful and made me realize that today there are still a lot of issues that need to be solved."
Brand's favorite part of the trip was walking across the Edmund Pettus Bridge in Selma, Ala. For him, "it was a once in a lifetime opportunity" which allowed him to get a better insight into "the brave civil rights activists who walked across that bridge 53 years before I did."
A key aspect of the trip was building personal relationships between the students at each school. Keeping with this, "my favorite event was a short pool party" during which the teens connected, shared UA student Domini Johnson. For Johnson, this point represented the beginning of deeper, newly-found bonds and "it was nice to see everyone together having fun. I feel like a lot of us became closer after that night."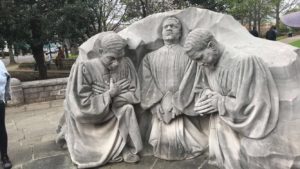 This experience was a great one, but some aspects of it proved to be challenging. A difficult and "easily the most meaningful part of the whole trip was looking at the barn where Emmett Till took his last breath," shared Brand.
"As I looked into the barn," recalled Brand, "I imagined a boy one year younger than me, being brutally beaten and tortured by two adult men." This sickening image, a boy being murdered for allegedly whistling at a white woman, captured the magnitude of how inhumane and cruel many white southerners were towards blacks during the Civil Rights Movement.
It can be hard to grapple with the fact that the ugliness of the past continues to manifest itself today. "I struggled with trying to remember that times have changed," explained Johnson. It is disheartening to see "so much of history repeating itself today," and that, in turn, makes it "hard to remember that [racism] used to be worse and on a bigger scale" in this country.
"One issue I had with this trip mostly at the beginning was connecting to it," shared Fingersh. "I listened and absorbed the information, but I don't think I truly connected to it until the Center for Civil and Human Rights." There the students were given the tools to truly apply "everything we'd been learning to my life." It can be difficult to engage with history that is not your own and to put it all into perspective, but that is one of the challenges that made this trip so beneficial.
Arguably the greatest part of the experience is the motivation to continue engaging in social justice after returning from the trip. "Learning how poorly black people were treated for merely trying to become equal, inspires me to fight for social justice today," said Brand. Current events and news reports show that injustice still runs rampant, and the struggle for equality is far from over. This reality "motivates [me] to fight and raise awareness of these [injustices] and work to prevent them from happening again." Brand said.
A significant takeaway from the trip is "the importance of education in the community," said Johnson. Due to cultural differences, HBHA students collectively didn't necessarily have the same background knowledge as the UA students prior to the trip. This experience helped increase community awareness of the plight of disenfranchised black people during the Civil Rights Movement.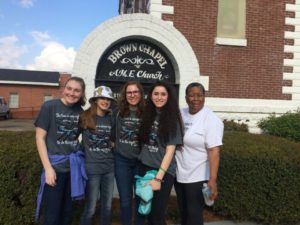 "This trip definitely motivated me to keep standing up for what I believe in and trying to change the world," explained Fingersh. "Listening to all of the stories about people who walked on Bloody Sunday, or marched from Selma to Montgomery when they were no older than I am, reinforced the fact that I can make a change even though I am only 15." The underlying lesson from the trip: Despite the challenges, we must continue to fight for what is right and change our world for the better.