The Effect Food Insecurity Has on College Students
Mirra Goldenberg
December 15, 2018
Slider image used with the permission of UMKC Food Pantry.
Food insecurity affects people nationwide; worldwide for that matter. For college students facing this problem, what is it like to lack the proper resources for food while on a college campus? A 2018 study found that nearly 36 percent of college students are experiencing hunger and a lack of stable housing. The ultimate question though, is what causes this to occur?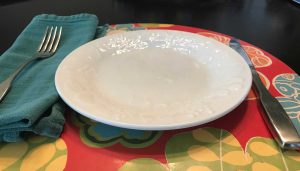 Although it might appear as though college students have all the resources they require to get them through the schooling process, more are food insecure than you might think. Even with financial aid and special food resources on campuses, many students are still struggling with food insecurity.
One of the prominent issues that plays a significant role in students' hunger is college tuition. We are at a point where college tuition rates are at an all-time high, and financial aid is unable to properly adapt to this. As a result, student debt is soaring.  Not only are students met with sizable expenses immediately after enrolling, but they can often get stuck trying to obtain food for themselves on campus.
Aside from the common stress of finding something to eat, lacking the proper nutrients can have a dramatic effect on academics. Students who do not get enough to eat will more than likely struggle to maintain higher grades, causing lower test scores and a lower chance of eventually graduating. Studies have shown that students suffering from food insecurity are more likely to drop out of classes than those with sufficient eating plans.
For an issue affecting so many college students nationwide, what can they do to combat this? There are numerous resources available depending on the college, but they are not always prominently known. Local food pantries are a common place for college students to visit if their own campus cannot provide the proper support and almost every community provides a food pantry regardless of colleges in the area.
Jordan Brink, the Graduate Assistant and main coordinator for the Kangaroo Pantry at University of Missouri Kansas City (UMKC), works at the pantry several days a week. He "interact[s] with clients, package[s] the food, update[s] [their] informational table, inventory check, place[s] orders at Harvesters, communicate[s] with all students, faculty, and staff pertaining to the pantry, and coordinate[s] food drives." As of fall 2018, the Kangaroo Pantry, open and available to UMKC students, has about 28 clients each month "seeking food assistance." Brink explains that "one of the challenges [of] being in college is financial stability, and the pantry is a great option for students in need of food."
There are also several community assistance organizations that are not directly tied to college campuses, but they can aid in finding students the help they need to stray away from food insecurity.
The Supplemental Nutrition Assistance Program (SNAP) is not a readily available resource to all college students in need, but it is an option to consider. Mackenzie Burke, a student at the University of Vermont, recently created a petition to make SNAP more accessible on her campus. A recent study of the University of Vermont showed that "25% of undergraduate students at UVM were food insecure in the spring of 2017, and 20% of medical and graduate students were food insecure in the fall of 2017." Burke writes in her petition that SNAP benefits are almost impossible for college students to apply for and receive because of the specific qualifications required. Therefore, she is taking action in an effort for Vermont representative Peter Welch to co-sign the College Student Hunger Act of 2017, "which aims to amend the Food and Nutrition Act of 2008 to make SNAP available to college students."
These examples show the true nature of food insecurity on college campuses, and the ways students are able to help themselves to avoid food insecurity. These options do not always provide continuous success, but they do make a significant difference in providing the extra support that college students need to thrive.