HBHA Battles Hunger with an All-School Food Drive
Hannah Pinson
April 1, 2014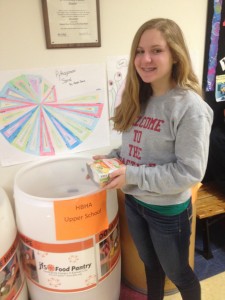 During the week of Feb. 24, the entirety of HBHA participated in a food drive for Jewish Family Services (JFS). Lower, middle, and upper school students brought in cans to donate to JFS throughout the week. Even the faculty participated. In addition, each group was promised a prize if they turned in a certain amount of items.
The lower schoolers donated over their goal of 700 items, winning the right to celebrate with a spirit day and popsicle party. Overall, the students felt a sense of pride, excitement, and happiness. "I'm really excited because I think everyone brought in a lot of cans," commented fifth grader Abby Kreisler. "I think that a lot of people will get food that they need and that they will be happy."
The middle schoolers also exceeded their goal of 300 items for JFS, and they won a pizza party. Eighth grader Sarah Caplan summed up the reason for this food drive. She said, "I think it's helpful for people. JFS really helps them."
The high schoolers did not meet their goal of 500 items for JFS. This means that they did not earn their goal of a late start day for the entire upper school. However, they still were able to donate a fair amount to the cause. Sophomore Elana Goldenberg enjoyed the experience. "Even though we didn't reach our goal, it felt good to bring in a lot of food, especially for people who really need it," commented Goldenberg. "It's a good feeling to know that there will be less hungry people in the community."
Jewish Family Services has collected food donated by HBHA, and they have already made them available in the food pantry. These items will go to hungry people throughout the community. Because of this, HBHA made a difference in the Johnson County, Kan. area from within the school itself.