The Laramie Project: HBHA Theater Department Starts a New Conversation
Ayelet Schuster
May 4, 2017
Upper school students at Hyman Brand Hebrew Academy (HBHA) performed the Laramie Project by Moises Kaufman as this year's play. This play has been banned in high schools all over the world because the play addresses the themes of homophobia, death, and bigotry.
The Laramie Project depicts the story of Matthew Shepard's murder, a gay student at the University of Wyoming who was murdered in Oct. 1998. Having heard of Shepard's death, members of the Tectonic Theater Project in New York went to Laramie to interview those who knew Shepard in order to find out more about his life and murder. The play was assembled from transcripts of  those interviews and the trial of the two  men who were accused of the crime.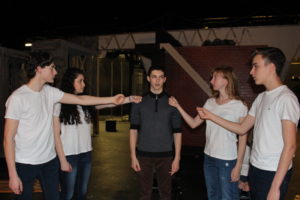 Unlike the lighthearted plays that HBHA's drama department has performed in the past, the Laramie Project touches upon more difficult subject matters. Micah Margolies, English and Algebra I teacher, is the play's director. He chose such a serious play because he wanted a change from the comedy. This is Margolies' third time directing an HBHA play.
"The Laramie Project is a really intense and thought provoking show, and I think it's really important that HBHA is putting it on." said actress Sara Saidel.  "It's banned in a lot of schools, so I think it's important that our school is letting us tell the really tragic story of Matthew Shepard."
"The Laramie Project would be a great play for any school to perform, but I think it is especially meaningful for us. We take great pride in being a school that is open and tolerant to all different kinds of people." explained Margolies.
"My hope is that this play forces its viewers to look inward and ask ourselves if we have crafted a society where what happened to Matthew could still happen. The answer, hopefully, is no." says Margolies. "But I think that there is always more that we can do to make our society a more inclusive place, and this play can be one step forward to accomplishing that."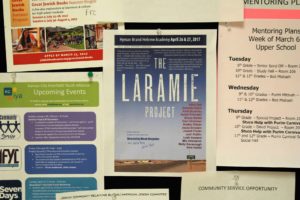 The message that Margolies hopes HBHA's production of the play has sent is this: "When terrible things happen in our society, it is critical to ask how something so horrible could have occurred… this play focuses on the entire community–it doesn't allow anybody to escape from the ripple effect that the murder had on the city."
The Laramie Project was performed to standing ovations in the Shirley White Theater on April 26 and 27.