The Hyman Brand Hebrew Academy Rams varsity boys soccer season ended on Oct. 17, which was senior night. The season concluded with a game played against Blue Valley North "C" team. This season came to a rough end because, halfway through, the team lost a very valuable player. During the fifth game of the season, while trying to get around another player, senior Ricardo Zepeda  rolled his ankle and broke his right foot. He was not allowed to play soccer for at least six weeks.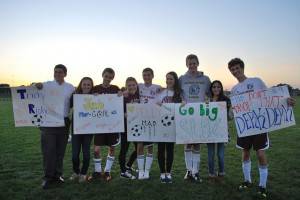 Most of the Senior class supported the Rams, both on and off the field, on Senior Night.
Without one of their players, the boys team was left short handed, or footed. However they continued to play their hardest, and finished the season with a 2-6-1 record. In addition to the team's most experienced member being injured, the players were often short on subs; they had a maximum of 12 players at a time. While Rams players often had to push through entire games, their opponents could switch out players at any time.
 Another issues the boys faced this season was inexperience. In order to even reach a 12 person team, they had to invite middle school boys to join the team. While this gave the middle school boys a chance to get better at soccer and play in varsity games, it meant the team had to go back to the basics, which hurt when they faced teams that had been playing together for years.
The team, coached by Cody Welton, science department chair, and Rebecca Glueck, English, social studies and science teacher, had good guidance as Welton is a soccer fanatic and Glueck played for the Israeli Women's National Soccer Team.
"I got licensed over the summer and I wanted to get more coaching experience. I love [soccer]," said Welton. "I think, all things considered, we had a fine season. We had many new and inexperienced players and our best player was injured halfway through, and that complicated the season."
    The majority of the team members were boys from the senior class, including Matthew Kavanaugh, Jacob Pellegrino, Max Sosland and Captains Jacob Margolies and Zepeda.
"As a first-time coach I had a great time, the five seniors took leadership roles on the field which really helped me out, also Coach Glueck was a big help," Welton said.
     After the injury of co-captain Zepeda, Margolies took the role of team captain and, with the help of his teammates, finished the season with 9 goals. "As an HBHA soccer veteran it was fun playing for my senior year, I had played soccer every year from eighth grade until now," said Margolies. "It was hard on the team when Ricardo was hurt, but we kept playing. I got help leading the team from other senior players like Max (Sosland) and first time player Matt (Kavanaugh), who really stepped up and played well. I will miss playing soccer for HBHA, but hope that the younger kids have as much fun as I did."
     There is a fear that next year's boys team will not have enough players after losing five seniors, but as Welton said, "We will miss the seniors and I think that we will have better team if every high school boy plays next year."