The Beginning of Boys Basketball
Alex Sher
January 16, 2014
Photos by Alex Sher
In late October, Hyman Brand Hebrew Academy basketball practices began. For a month, the boys basketball team conditioned, practiced defense, and refined its offense to prepare for upcoming games. Many of the boys were returning for their second, or even third or fourth year on the team, but there were a few new members to the team, like eighth grader Joe Porter. Their coach, however, had not been with them last year. After two years away from HBHA, Coach Eric Stamps returned to coach the boys varsity basketball team.
"It's exciting [to be back at HBHA]," Stamps said. "It's a different group than the first time. I think this group is a whole lot smarter [regarding basketball and following Stamps' directions] than the first time I was here, so that makes coaching a little easier."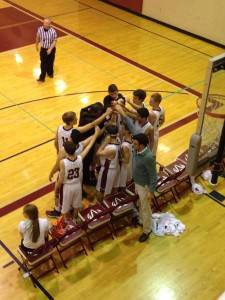 Coach Stamps giving the team the perfect play just before the boys shout "RAMS!"
Some, including senior Jacob Margolies, were nervous to have Stamps return as a coach. "My freshman year, I quit the team when we had Coach Stamps, because I was not ready for that commitment," Margolies said. "Now I value how hard he makes me work and I appreciate it. We've got a good group of committed guys and a good, strict coach, who is pushing us to our limits. I think we stand a good chance of having a successful season."
On Tuesday, Nov. 19, all their hard work was put to the test during their first game. They played last year's conference tournament champions, Christ Prep Academy, and faced a 20-52 defeat. While it was the Rams first basketball game, the Christ Prep Academy Patriots had already participated in the Center Place Restoration School Tournament, and their experience allowed them to play a poised game against the Rams.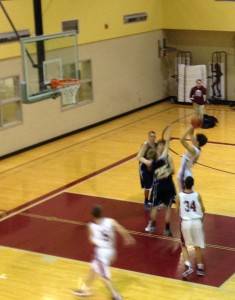 Senior Matthew Kavanaugh shooting a short jump shot. 
At their second game, the Rams won a close game, 53-52 against Grandview Christian on Nov. 26. After being down 10-18 at the end of the first quarter, the boys managed to come back second quarter and went into halftime 30-28. The rest of the game was neck and neck. Senior Matthew Kavanaugh and sophomore Joel Gutovitz were the leading scorers with 16 points each.
"The whole team was playing; there was no selfish points," Kavanaugh said. "We all worked the ball and I scored a lot off of breaking their press."
The boys were triumphant after another close game against Alta Vista on Dec. 3. Despite losing 22-30 at halftime, they came back strong and won 62-48.
Their fourth game was another win, 53-33 against Ozanam. Senior Max Sosland was the leading scorer, with 10 free throws and 18 points overall.
On Dec. 11, the boys played their fifth game against Cristo Rey. With two seconds left on the clock, the game was 43-42. After the other team tipped in a bucket, the game ended 43-44.
"We started out slow, but once we got our zone offense going, we were working the ball inside and scoring," said Jacob Pellegrino. "It's a tough loss and it's a hard game to walk away from, but at the same time, we can't be disappointed with how we played. You win some, you lose some."
The boys battled Faith Christian Academy on Dec. 12, from the very beginning, the boys had a lead and kept it the entire time. The game ended 69-37.
Overall, Sophomore Zach Kreisler is proud of his team and its accomplishments. "It's been a lot of work, but seems to be paying off," Kreisler commented. "It's not as hard as I thought it would be and it's a lot of fun."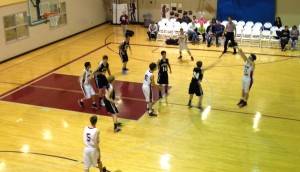 Joel Gutovitz takes a three-point-shot.
The season took a pause for finals and winter break, but their games started up again with an away game on Jan. 9, also against Faith Christian Academy.  The boys came back strong with a 59-45 win. The game started off close, with a 16-15 score at the end of the first quarter. However, the boys pulled ahead during the second quarter and were winning 38-30 at halftime. Junior David Liebschutz was the leading scorer with 20 points.
On Jan. 11, the team faced Midland Adventist Academy. The boys began with a lead, but, after a tough game, they lost 62-60.
The boys still have 11 regular season games to look forward to. After the busy, game-filled weeks ahead, the Rams will participate in the Great Plains Athletic Conference Tournament and the Sarachek Tournament in New York City.
"I want our team to grow and become better," said Stamps. "I want us to win our first conference title and do the best we can at the Sarachek Tournament. It would be really nice for our team to grow and build for our younger guys."