At only 16 years old, Gianluca Busio of Sporting KC has smashed some major MLS records
Slider image taken from Instagram.
You are 16 years old, and you just got your driver's license. Recently you moved to Kansas City without the rest of your family. As you hurry to finish your online courses, you get ready for soccer practice. This is the life of professional soccer player, Gianluca Busio.
Originally from Greensboro, N.C., Busio traveled nearly 1,000 miles to join Kansas City's soccer team, Sporting KC. While his family is still in N.C., Busio is staying with a host family and takes online classes. He will graduate from high school in 2020.
Busio is Sporting Kansas City's youngest soccer player ever. He was recruited at age 15, in August of  2017. Not even two years later, he has broken some major records. Busio plays mostly as a forward, but he also plays in the midfield. Busio is the second youngest player of all time to sign a Major League Soccer (MLS) contract, and he is now the youngest active player in  MLS.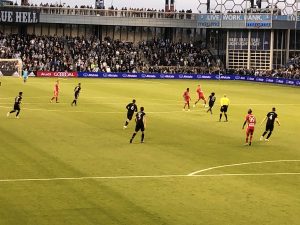 In 2018, Busio played in his first MLS game. He landed his MLS debut against FC Dallas on July 28. During this year, he became the third youngest player to start a match in MLS history, and he also broke the record for the second youngest player to record an assist.
Busio has been playing with Sporting for almost two years now, but 2019 was the year he truly began making MLS history. At age 16, he became the youngest player to start an MLS game and the youngest to ever score a goal in Children's Mercy Park's history. This year, Busio also became the youngest player in MLS history to score in back-to-back regular-season games. Not only this, but Busio is also the only player in history to score game-tying goals in back to back regular season matches.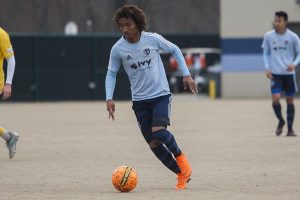 Although Busio has worked hard to get to this point, he is still incredibly grateful for the opportunity to follow his dreams.  "This is a dream come true, and I could not be more grateful. Since I was a kid, I always dreamed of being a professional soccer player, so I want to thank Peter Vermes and the Sporting Kansas City organization for giving me this opportunity. From the day I arrived in Kansas City, they have made me feel like part of the family," says Busio according to  Sam Kovzan,  writing for Sporting KC.
His work ethic inspires young soccer players across Kansas City to work their hardest and follow their dreams. His accomplishments prove that if you work hard enough, you really can be whatever you want to. Markus Noll is a 10 year old soccer superfan and player who is inspired by Busio every day. "He is very young, and I want to be a professional soccer player. I want to be like [Busio] because I have seen him score a lot of goals, and he plays for Sporting KC, and I want to also someday," says Noll.
Busio is just getting his career started. While his contract only technically lasts until 2020, he has the option to sign for 2021 and 2022. This means he has plenty of time to break many more MLS records. It is exciting to see where Busio will take his career next.