Perijo Maddox: "Multi-Purpose Human"
Eliana Schuster
December 12, 2014
Perijo Maddox is already well known by the HBHA upper school community, as she has been the HBHA Ram's Girl's Varsity Basketball coach for 4 years. This year, her involvement in the school has grown, as she is working in the lower school as a first grade aide, or as she likes to call it "the MPH, Multi-purpose human." Maddox was inspired to return full-time to HBHA and work as a staff member by the girls who she coached on the basketball team because they "were so nice, good [at basketball], serious about their education, and liked each other" which she finds is "unusual in a high school." This led Maddox to thinking, "if they're that nice, it would be nice to work with the younger HBHA kids."
Maddox says that her relationship with the school has "absolutely" changed significantly now that she is working with younger students, along with the upper school, girls varsity basketball team, "just because I have more interface with other adults. When I was just coaching, it was just me and Austin [Benton], [Coach] Stamps, and Mr. Clauer," and she loves this change as well as the fact that "it feels good not just be[ing] around [HBHA students] on the basketball court," but at school as well.
Born in Western Kentucky, a preacher's daughter, Maddox really "enjoy[s] learning the Jewish customs. I'm not very good at the Hebrew yet, but I can say 'shalom yeladim'" She began playing basketball at church when she was in seventh or eighth grade, moved to Kansas City when she was in High School, and played basketball on William Jewell College girl's team.
Fun facts about Maddox: An animal lover, Maddox has two dogs "[they are] two dalmatians, which makes them very special" two cats, eight turtles, and two tanks of fish. She is one of six kids, and her favorite food is chips and dip "although, frankly," she says, "I could do with just chips".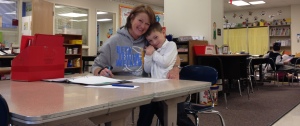 This winter basketball season is Maddox's fourth year coaching HBHA basketball. Maddox says "the fourth year for a coach is a big deal, because now every person on this team, I've coached [since their first year of varsity basketball]. It's truly my team, for the first time."
Maddox really enjoys "the family feeling of HBHA. It feels more like a school family than the bigger places." Prior to coaching the Lady Rams, Maddox had never coached at one place for more than two years in a row, and she never imagined that she would become such an important part of the HBHA community. Maddox "absolutely love[s]" this change. When Maddox hears praise of the students and athletes at HBHA she is "proud to say, 'that's what I get to work with every day.'"