A Theatrical Field Trip: "Romeo and Juliet"
Leah Sosland
March 10, 2014
Photo by Alex Sher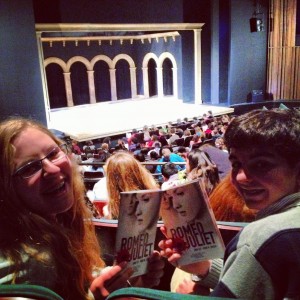 Sophomores Elana Goldenberg and Justin Pfau show off their playbills before the performance.
On Jan. 18, Hyman Brand Hebrew Academy (HBHA) high school students attended a performance of "Romeo and Juliet" at UMKC's Spencer Theatre, produced by The Kansas City Repertory Theater. A popular and well known Shakespeare play, it is a tale of love, tragedy, and passion. The Kansas City Repertory Theater's 2014 production play made many minor innovations that seemed to reflect the vision that Director Erin Rosen had for the performance.
Before the performance even began, the show opened with the characters practicing their intricate sword fighting scenes. The long scepters seemed to almost be real, and during Q&A after the show, the actors shared that they had to practice long hours with professionals to perfect their swordplay.
Each grade in HBHA's current high school had read the book in ninth grade, and the freshman class finished it just a weeks before. The play especially had an effect on freshman Lauren Hassan, who reflects that, "the play was really interesting, but many of the lines were different from the book. I had imagined it differently in my head while reading, but I enjoyed it anyways."
"I really liked the play," said senior Kara Kahn. "I think the actors did a great job. However, when I read the book freshman year, I had imagined Juliet to be a very different character. With that being said, the play was executed extremely well."
"I enjoyed this production of "Romeo and Juliet" because the play is so well known and relatable," remarked senior Jacob Pellegrino. "It's hard to put on a production that's so famous and make it original, which they succeeded in doing. The special additions, such as creative sound effects and exciting swordfights made the show very unique."
R. Gina Renee, HBHA'S AP Government, Publications, and English 9 teacher, absolutely loved the production. She has read the book countless times, and she recently finished reading it with the freshman class. In fact, Renee bought tickets again so that she could bring her daughters to see the performance as well! Renee remarked, "I always go back to see a Shakespeare play because I have this naive hope that somehow things will work out in the end…that Romeo won't take the poison before Juliet wakes up."
If only everything had a happy ending.