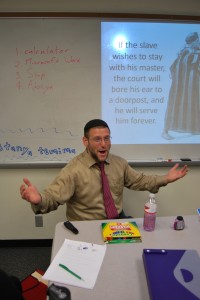 Another one of the new teachers at HBHA is Rabbi Yitzchak Jaffe, HBHA's new computer teacher. Jaffe was born in Staten Island, New York, a place he says is, "a country of its own." He grew up in New York and graduated from the State University of New York in Albany. His third and final year of college was spent in Israel. He stayed in Israel for eight years and, while there, met his wife, had his first child, and received his rabbinic ordination. Jaffe has a degree in Judaic Studies and is close to a master's in education.
Reflecting on his own high school years, as a tenth grader, Jaffe was very heavily influenced by his chemistry teacher, who "was such a good educator that he tricked [Jaffe] into thinking [he] liked chemistry for years and years to come. He made everything exciting and visual, and you just were riveted by his class," said Jaffe. "You couldn't take your eyes off him and never knew what he was going to do next." Jaffe took chemistry classes well into college before finding that he did not like chemistry after all. He strives to have the same effect on his students that his chemistry teacher had on him.
Jaffe has also lived in Baltimore where he taught for the last six years at the Beth Tefiloh Dahan Community School as a middle school Judaics teacher. Jaffe says it is, "the only thing [he] truly misses about Baltimore." At Beth Tefiloh, Jaffe made technology a  large part of his class. Two years ago, he and his class made a 58-minute long movie about the book of Shoftim that is available online. The students seemed to enjoy it, because the next year, Jaffe was teaching a class and was reviewing material. He asked if any of the students knew who Ehud was, to which one of the kids raised his hand and said 'That was me!' Jaffe stated, "when students are involved in the story, the information and experience is easier for them to remember."
Jaffe's entrance into the field of technology was, "an accidental fortune." When he began teaching, Jaffe was bothered that a significant portion of education involved repetitive lectures that the students felt were boring and dry. This inspired him to learn about the technological world around him, and he adapted his style of teaching into what he calls "educational entertainment."
Being a rabbi, Judaism is a big part of Jaffe's life. When asked how religion affected his teaching, Jaffe responded, "It affects things… I can't say if it's positive or negative. It affects things in a way where I sometimes want to be tough on my students because it's the right thing to do educationally, but I don't want to push people away from me because I don't want people to dislike, or have a bad taste, for Judaism."
Despite what you might expect, Jaffe did not grow up in a religious household. Early on someone made a compelling analogy to Jaffe which eventually led to him adapting a religious lifestyle. "He told me, 'Yitzchak, Judaism is like an apple. You can study it, observe its color and how it changes when you cut it open, how it changes over time, how it grows from the trees. You can know the scientific properties that make up the apple, but you'll never understand anything about it until you actually take a bite of it. You can study Judaics at a university, but you'll never know anything about Judaism until you try it and take a bite."  He is now a certified rabbi and lives a Jewish lifestyle.
Having had worked in Jewish education for eight years, Jaffe wanted to continue doing so. He found that there were job offerings at HBHA that were fitting. Jaffe and his family moved their plans ahead one year and moved to Kansas. Jaffe's wife's family lives in Kansas, and he says they, "[have] been away from family for far too long." His wife and her three siblings all went to HBHA. Her mother, Mrs. Pase, also taught here for thirty years. Jaffe said he thought, "it would be a wonderful environment to be a part of."
Compared to Baltimore, Jaffe says Kansas is "very open and good-paced… it's a very safe feeling." Jaffe said that "[he] went home and the first thing [he] said to [his] wife was, 'I just met the nicest human being I met in my entire life, and she was a clerk at Home Depot.'"
At Hyman Brand, some of Jaffe's roles are, "to assist, kind of spearhead, the implication of educational technology throughout the institution and… seeing the affect on an institution as it tries things it hasn't tried before as it breaks down barriers that have stopped it from progressing in the past." He is looking forward to his first year at HBHA, and we are looking forward to seeing what Jaffe has in store for both us and the school.